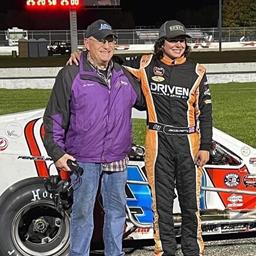 11/11/2022
Modified Racing Series
---
MRS RETURNS TO STAR WITH SBM125
MYRACENEWS SmugMug
MYRACENEWS Instagram
MYRACENEWS Twitter
NASCAR News
Home
2022
November
SBM 125 XII AT STAR SPEEDWAY MOVES TO SEPTEMBER IN 2023
Featured MRS Modified Racing Series Seekonk Speedway
SBM 125 XII AT STAR SPEEDWAY MOVES TO SEPTEMBER IN 2023
Michael Jaworecki
20 hours ago
0 0
Read Time:3 Minute, 33 Second
Jon McKennedy #73 and Doug Coby #52 in the inaugural 2011 SBM at Star Speedway. Michael Jaworecki/Myracenews
EPPING, NH (Nov. 10)- The SBM 125 began in 2011 as an Open Modified event at Star Speedway in Epping, New Hampshire. The race has been run under different forms of leadership since Jon McKennedy earned $7,225 by winning the inaugural SBM as a local track event in 2011.
Next season it will take on a different chapter in its successful history as a premiere event at the quarter-mile. The 12th Annual SBM 125 will now take place as part of Star Classic Weekend, and will be managed by the Modified Racing Series. The Sunday, September 17 event will come with an enhanced base payoff for competing MRS teams.
Additionally, the bonus sponsorship bonus program, which made SBM X in 2021 the highest paying race in track history, with a total purse of $76,402, will return. New for SBM XII will be the "Nocella Paving SBM Loyalty Bonus", worth $1,000. Drivers who have run a minimum of five of the 11 previous SBM's are eligible.
There are 19 of the 125 all-time SBM participants that have raced in at least five, including Ryan Preece, Andy Jankowiak, Ron Silk, Andy Seuss, Matt Hirschman and McKennedy. However, the favorites for this 2023 Nocella Paving award could include Matt Swanson, Brian Robie, Matt Galko, Woody Pitkat, Max Zachem and Anthony Nocella.
Many more purse-enhancing bonuses will return, including but not limited to the $500 First Timer Award, $300 to the Highest Finishing Father, a Halfway Bonus, Longest Tow, Hard Charger, Fastest Last Lap Heat, Tough Luck Award, and the Chuck Montville Car Owner Award will also return. Additionally, lap money, split between the race leader and another top ten running car on each lap sold, making every lap matter.
"This change gives us two major Modified races instead of one," Star track owner Bob Webber Jr., said. "The MRS has supported Star with full fields the past two years and this rewards them for that with a bigger payoff. It also puts an exclamation point on our Classic Weekend Sunday program, which is going to be a huge three days of racing in 2023."
The Modified Racing Series had a bit of a resurgence in this past fall, drawing a full field of cars to Star this past September, and 32 race teams for the season finale at Thompson, Conn., last month, where Jacob Perry surpassed Kirk Alexander to win the MRS Drivers Championship. Gary Casella took home the car owner hardware. Both are eager to return to Star for the 2023 event.
The first entry for SBM XII has already been received, as Star 2021 350 Supermodified Track Champion Jeffrey Battle will become the 126th driver in history attempting to qualify for an SBM 125.
Race Director Bill Doucette has brought back stability to the MRS, and the race teams have responded. He expects the 2023 SBM 125 XII will flourish under the MRS banner.
"I am very excited about having the SBM 125 on our schedule," he said. "I think it's kind of back where it belongs, with the group of people that belong to it. This is going to be a great addition to our series, and having it at the end of the year gives teams a chance to prepare.
"At this moment, the SBM 125 is going to be the marquee event of our season. We are going to work on making it extra special for our race teams, and fans as well."
The SBM 125 has had four different event winners in the past five years, and with new teams adding to the list of drivers in SBM history, plus the added 25 laps and the allowance of one change tire for MRS teams, an event like no other in 2023 is a near certainty for this September 17 event.
---
Article Credit: Kevin Rice
Submitted By: William Doucette
Back to News