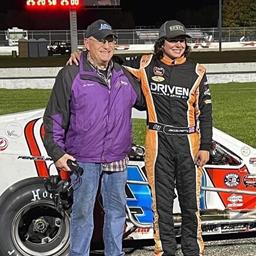 4/30/2023
Modified Racing Series
---
MMRS to Support Racer for Racers 100
We here at the Milton CAT Modified Racing Series are proud announce its support of The Racer for Racers 100 at Star Speedway on July 1st .This will be a points paying event for all MMRS members as well we will be putting up $3000.00 in bonus awards monies TBD for all participating MMRS members.
Thank you to The Racing Guys , MDP and Star Speedway for allowing this to happen, also Thank You to Tim Lepine and the 2022 NASCAR Whelen 79 team of Jon McKennedy for donating their portion of their bonus monies at The North East Classic ($1250) for the bonuses to be paid out.
This is looking to become a major event of the 2023 season it should be a great event as Star Speedway makes for some great side by side modified racing , come out to see the Stars of the Milton Cat Modified Racing Series compete against some to the best Tour Type Modified Drivers in the North East.
---
Submitted By: William Doucette
Back to News